---
Loyalist is an automation tool that can help businesses improve their customer loyalty by providing insights into customer behavior and enabling targeted marketing campaigns. When considering the costs associated with Loyalist, there are a few key factors to keep in mind.
Firstly, Loyalist offers a range of pricing plans depending on the size and needs of your business. The Bronze Plan starts at $99 per month and includes access to basic features such as: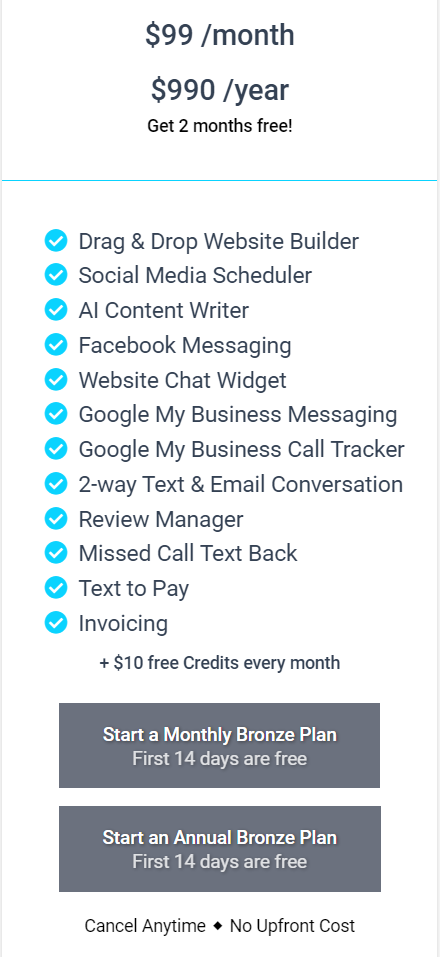 Bronze Plan (Standard)
• Website Builder (must have if you're starting a new business, just drag and drop and create your amazing webpage)
• Social Media Planner (connect unlimited profiles and schedule your post for approval or right away)
• AI Content Text and Image Generator (AI-powered assistant that can help generate content faster, easier, and better)
• Facebook Messenger
• Website Chat Widget
• GMB Messaging
• GMB Call Tracking
• 2 Way Text and Email Conversation
• Reputation Management
• Missed Call Text Back
• Text to Pay
• Invoicing
Bronze Plans receive $10 every month in complementary Credits
As you move up to the more advanced plans, you can expect to pay more, but you'll also gain access to more powerful features. Here's the lists of the amazing tools that you can unlock on the Silver Plan and Gold Plan.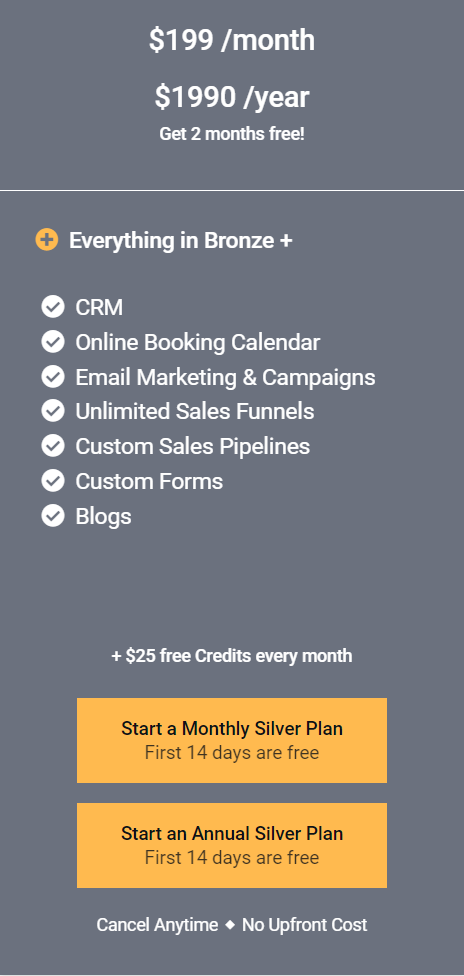 Silver Plan (Professional)
• CRM System
• Online Booking Calendar
• Email Marketing Campaigns
• Unlimited Sales Funnels
• Custom Sales Pipelines
• Forms Builder
• Blogs
Silver Plans receive $25 every month in complementary Credits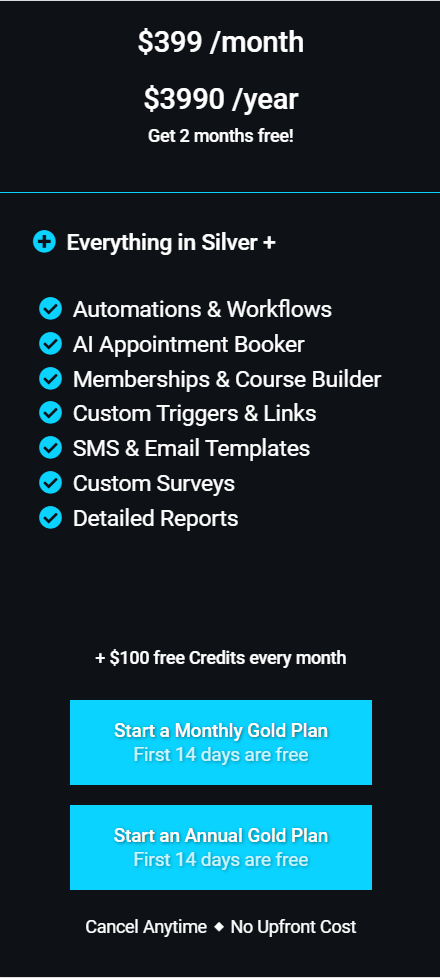 Gold Plan (Premium)
• Automation Workflows
• Workflow AI powered by GPT4
• AI Appointment Booker
• Memberships (Dashboard, Products, Course Builder, Analytics)
• Custom Automation Triggers and Links
• SMS and Email Templates
• Surveys Builder
• All Reports (Detailed reporting on Google ADS, Facebook ADS, Conversion Report and many more)
Gold Plans receive $100 every month in complementary Credits
---
The monthly subscription gives you access to the tools and features in Loyalist. We also have other features and integrations that are on a "pay as you go" plan. For example: sending emails, texts (SMS), and making calls through Loyalist.
Remember when we mentioned complementary credits above? These credits can be used for all of the following features and integrations. In your Account, you can check the current balance of your Credits and set the recharge rules too (if you'd like to purchase more). More on this later.
Phone System
LC - Phone acts as our Telephony service provider, which has Incredible Deliverability, Error Monitoring, and Better Compliance and is much more affordable when compared to any of the Telephony service providers, not to mention it eliminates the need for using a third-party telephony provider in order to send/receive an SMS/call within Loyalist.
In order to use the calling/SMS functions in Loyalist, you'll need to purchase a phone number (which you can do right inside Loyalist). This will cost you between $1-$2 USD per month for each "digital phone number". All of the numbers you use through Loyalist can be forwarded to your business phone number.

LC - Premium Triggers and Action
If you're looking to take your workflows to the next level, you must check out Premium Triggers & Actions. LeadConnector (LC) Premium actions and trigger unlocks advanced capabilities such as connecting workflows to external systems or software - without using expensive third-party automation tools like Zapier, Make (Integromat), or PabblyConnect.

With Premium Triggers & Actions, you can integrate systems like Slack and Google Sheets into a workflow and catch inbound webhook actions (Post requests) within the same process. Basically, the possibilities are endless for your automations.

Content AI Text and Image
If you wanted to jazz up your content. Unleash the power of AI and see your content spring to life with tailor-made keywords, tones (funny, respectful, sarcastic, grumpy, persuasive, other tones) and up to 5 different variations. The writing game has changed and Content AI will help you create appealing social posts, write copy for sites, and generate appealing emails with the power of AI. Say goodbye to writer's block and hello to time (and money) saved by enhancing your content creation with Content AI. In addition Loyalist AI can also generate high quality images.

Email
LC - Email acts as an email service provider hosted by the CRM, which has Incredible Deliverability, Error Monitoring, and Better Compliance and is much cheaper when compared to any of the email service providers in the market.

Email Verification
Email Validation is a process that checks if an email address is deliverable. In other words, this tool determines if it's possible to deliver mail to that email address before you send an email. Sending emails to verified addresses helps keep your domain in good standing and helps your emails avoid the Spam filters.

Workflow AI
Workflow AI Action, the tool that simplifies your business operations. It's built on advanced AI, handling complex tasks swiftly and efficiently. Say goodbye to tedious manual processes and hello to a whole new era of streamlined workflows with Workflow AI Action.

Conversation AI
Introducing Loyalist CRM revolutionary Conversation AI. Unlock the potential of our AI-powered automation to elevate your customer interactions. With our advanced auto-reply feature, you can streamline your responses and ensure prompt engagement. Additionally, our suggestive AI, now released for all users, provides evergreen support, offering intelligent suggestions to enhance your conversations. Empower your team, save time, and deliver exceptional customer experiences with the CRM's Conversation AI.

Wallet Management - This is how you pay for using EMAIL, CALLS, SMS, CONTENT AI and PREMIUM TRIGGERS & ACTIONS. Your Wallet houses all of your Credits (including the complementary Credits we gift you every month).

Anytime you SMS/call/email, use premium triggers in your automations, generate content with AI, validate an email address, or purchase a phone number, the Wallet Credits are debited (used).
The wallet is found in the Settings > Company Billing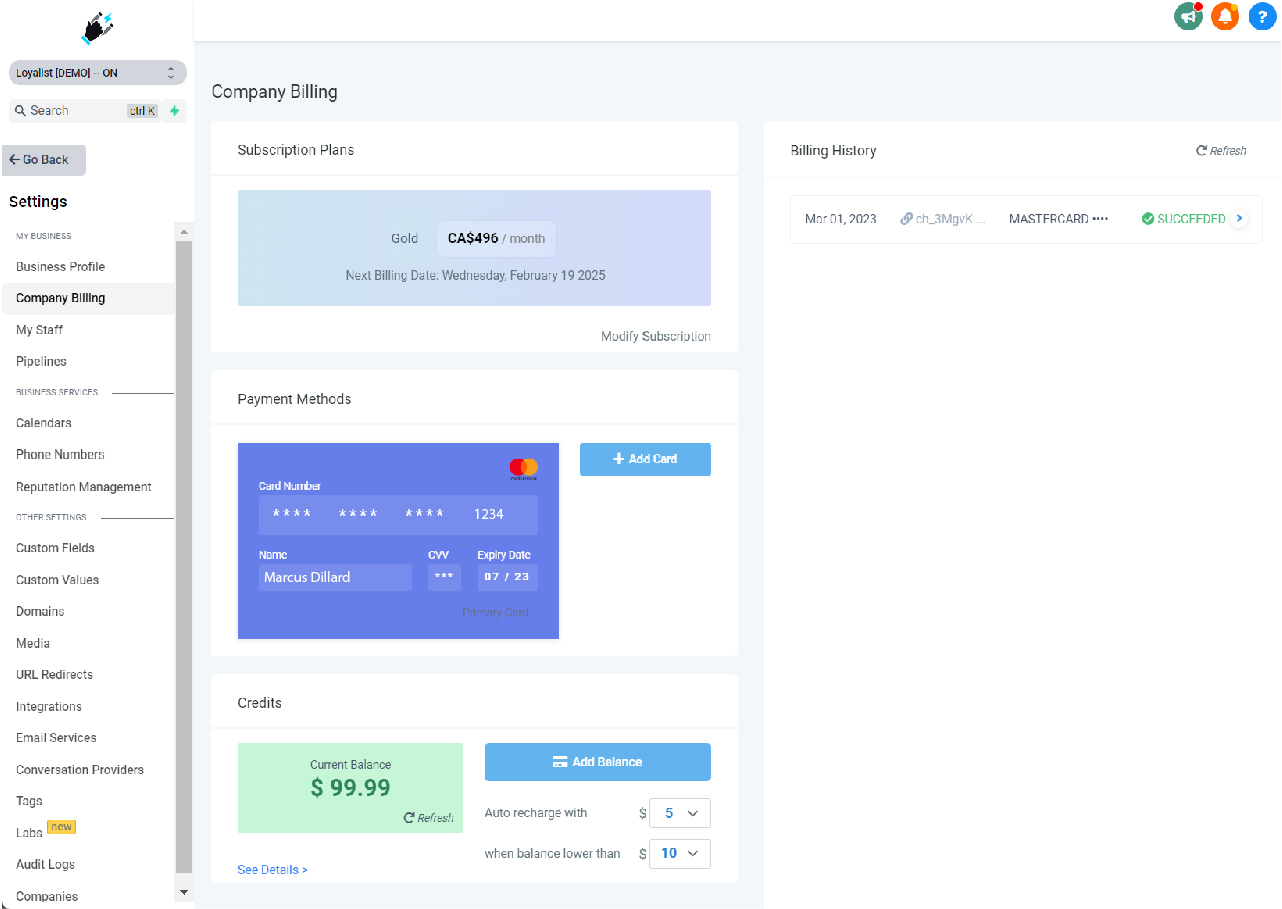 You can view the wallet transaction history from Settings > Company Billing > Credits > See Details: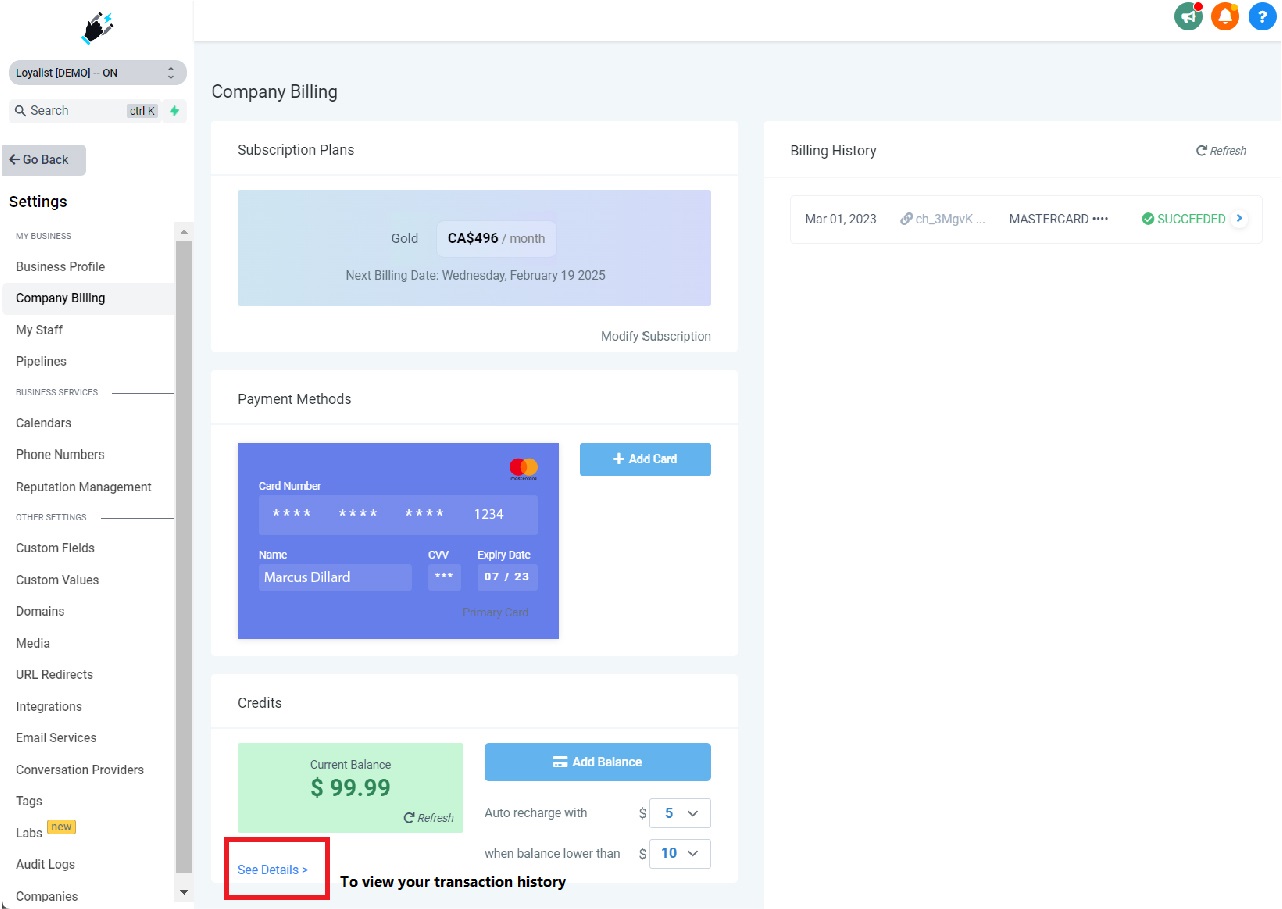 The wallet can be recharged in several ways.
Auto Recharge - In the Company Billing > Credits section, you can find the auto recharge settings with 2 options. The amount entered in the 'Auto Recharge with' field will be added to the wallet each time the balance is lower than the amount set in the 'when balance lower than' field.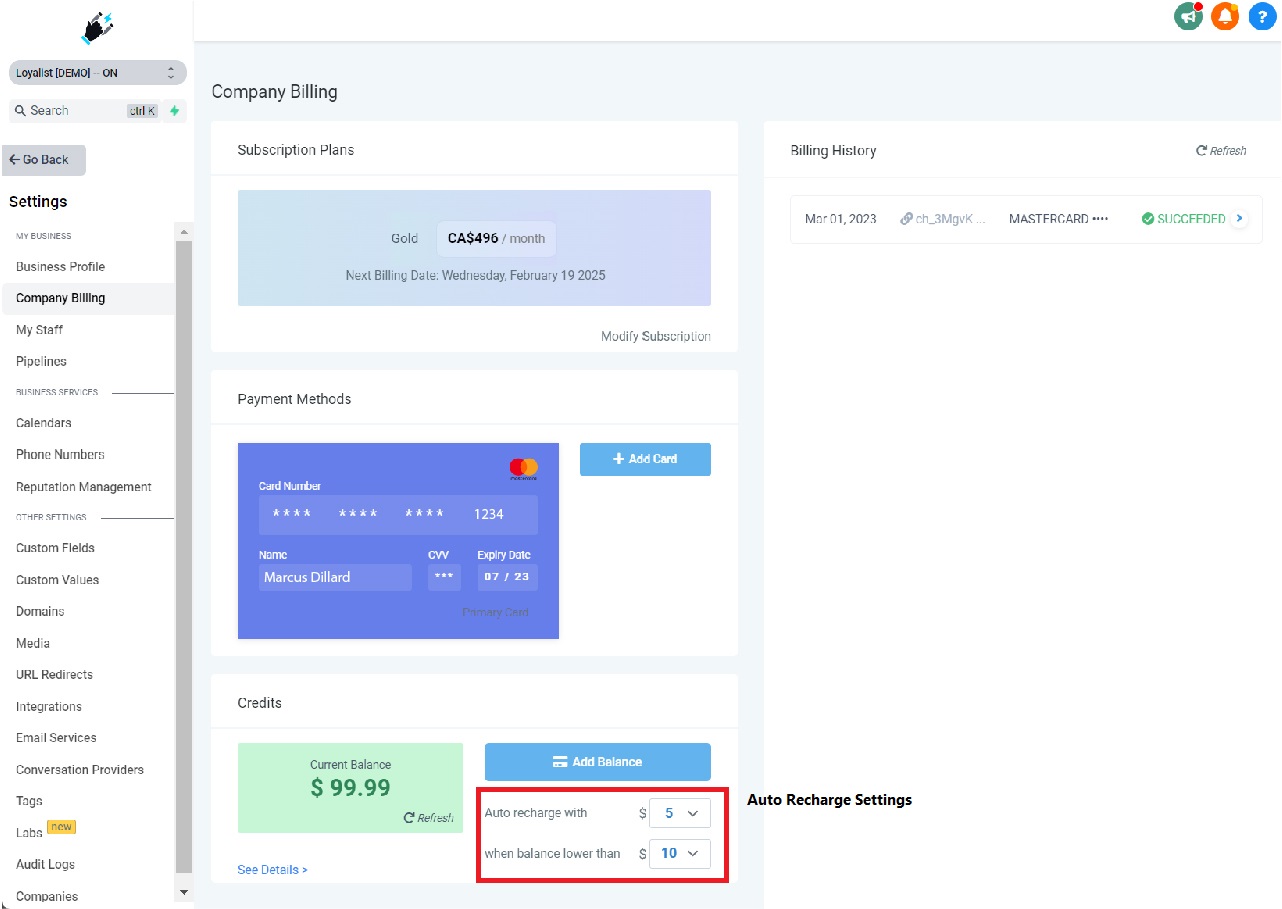 Manually (Add Balance) - Using the 'Add Balance' button in Company Billing, you can recharge the wallet.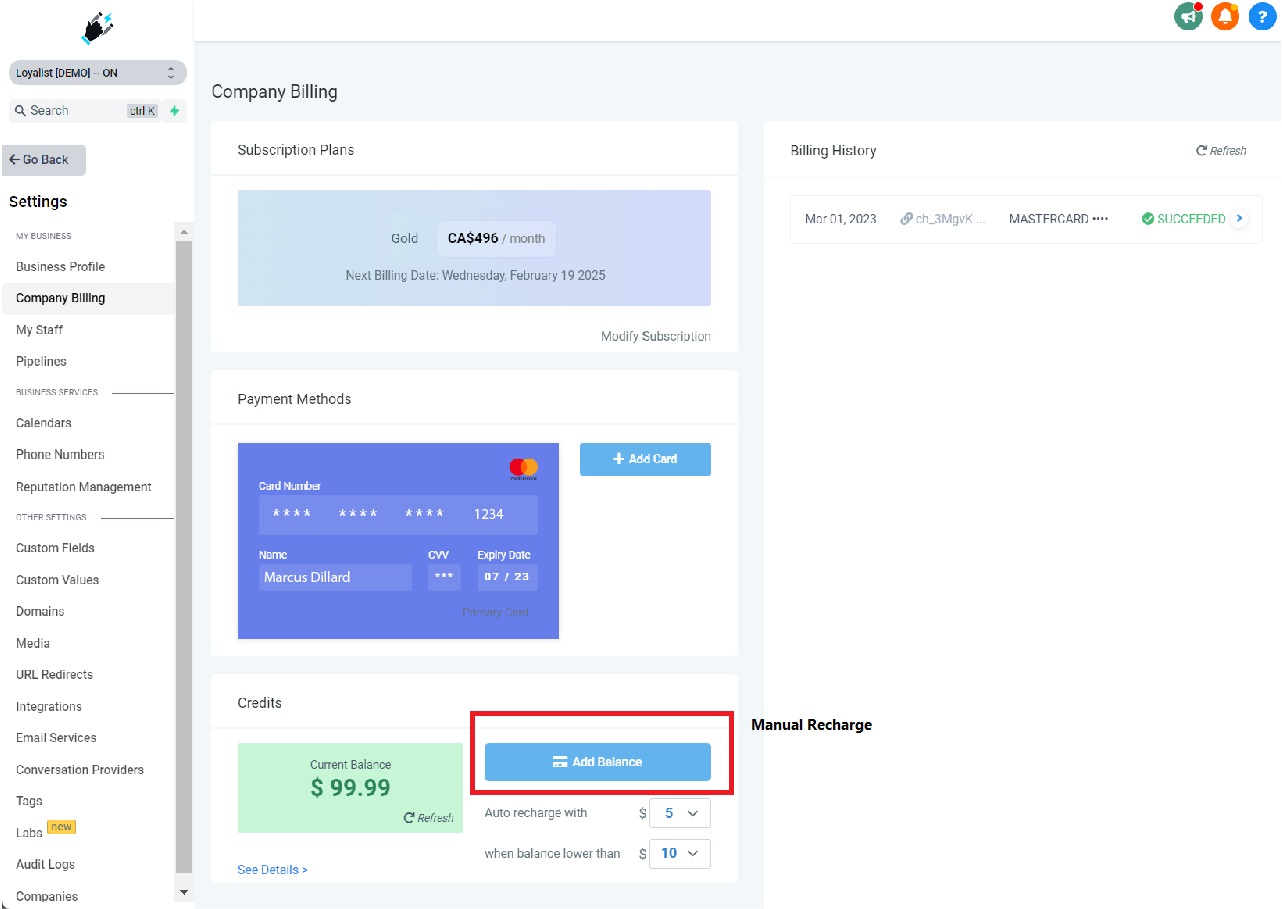 Complimentary Credits - Yes, we're giving complimentary credits for you to use. So, if you're not a heavy user, then you don't have to pay extra!
Payment Processor Fees
If you want to collect payments from your customers, you'll need to integrate with Stripe, Paypal, or Authorize.net (VISA). We don't charge anything for this, but these payment processors do charge you a fee for your transactions.
Stripe: A popular choice for online businesses and startups, Stripe offers a developer-friendly platform, custom integrations, and transparent pricing. We use Stripe for our subscriptions and highly recommend it.
PayPal: PayPal is a well-established payment processor with a global presence and a wide range of features, including a secure payment gateway, invoicing, and recurring payments.
Authorize.net: Authorize.net is a trusted payment processor with a long history of providing reliable and secure payment processing services. It offers comprehensive features, including fraud detection and mobile compatibility.
NMI - NMI (Network Merchants Inc.) is a well-known payment gateway service provider that offers a variety of solutions for businesses to process online transactions securely and efficiently. NMI's payment gateway allows merchants to accept credit card and eCheck payments from their customers through multiple channels, including websites, mobile apps, and in-person point-of-sale systems
Ultimately, the best choice depends on the specific needs of your business, such as the types of payments you need to accept, your target market, and your budget. It's recommended to compare each processor's features, fees, and support options before deciding.
Notes: For more information please check out:
Stripe: https://stripe.com/gb/pricing
Paypal: https://www.paypal.com/us/webapps/mpp/merchant-fees
Authorize.net: https://www.authorize.net/en-us/sign-up/pricing.html
NMI: https://www.nmi.com/
---
Finally, it's worth considering the potential return on investment (ROI) of using Loyalist. While the upfront costs may seem significant, the tool has the potential to drive significant improvements in customer loyalty and revenue over time. By enabling targeted marketing campaigns and providing insights into customer behavior, Loyalist can help you identify opportunities for growth and maximize the value of each customer relationship. Here's a list of Loyalist's full suite of features/tools and what software we replace.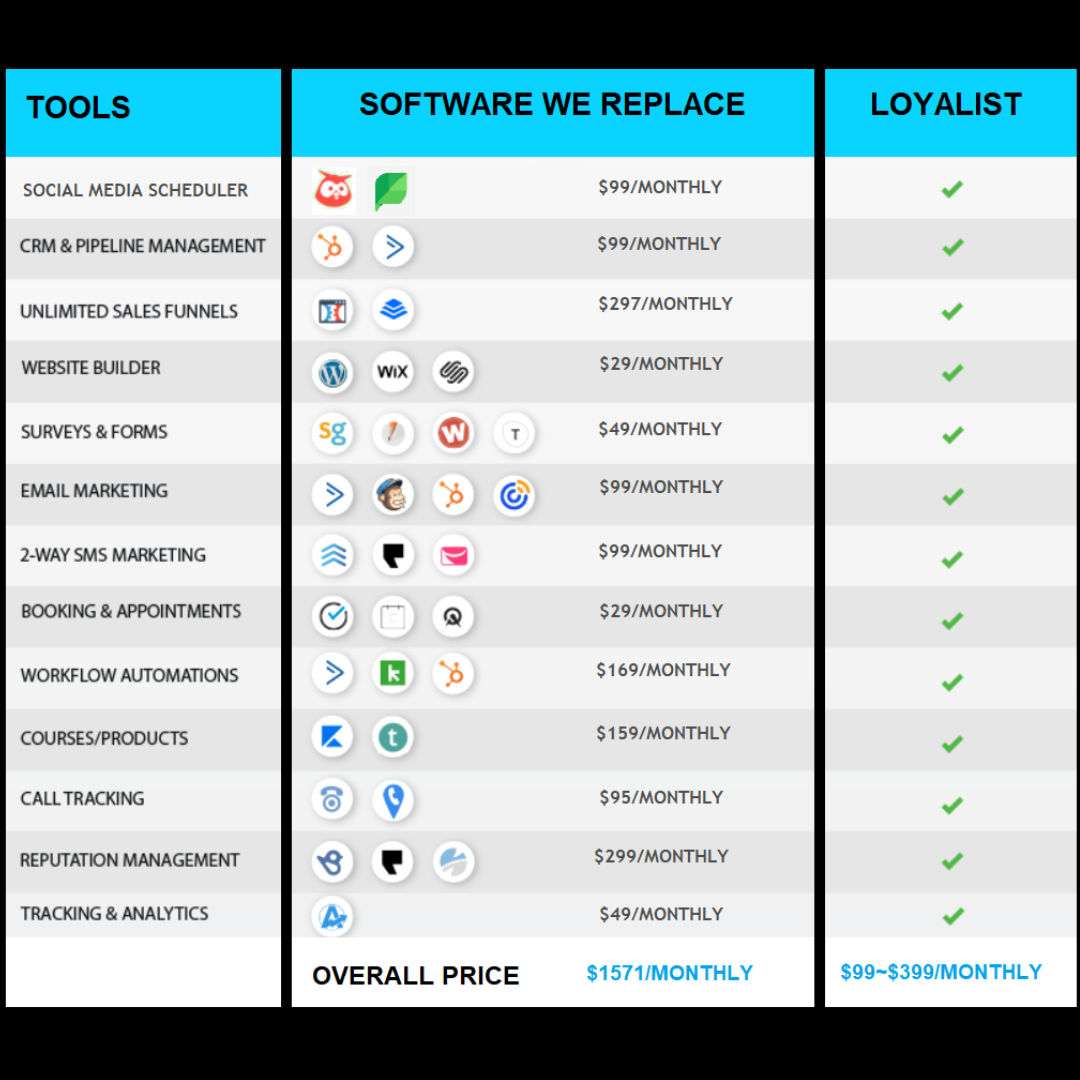 Overall, the costs associated with Loyalist will depend on a variety of factors including the size and needs of your business, the level of technical expertise required, and the specific features and integrations you choose to use. However, by carefully evaluating these costs and considering the potential ROI, you can determine whether Loyalist is the right tool for your business and make an informed decision to invest in it.
---
Related Articles
How to create a Social Post with Content AI?